Wood Trim Stain and Finish production line

Project Scope: 
A window and door trim manufacturer wanted to increase productivity and consistency of their stain and finish process. 
Previous System:
The previous system of staining and finishing was done with many steps requiring the handling of the trim multiple times throughout the process. Trim would be run through a spray booth and then stacked and staged for drying and prep for the next operation. All operations were in different locations and required manual handling of the trim introducing the susceptibility to human error and damage. 
New System Design and Function:
The new system was designed with the intent to reduce human interaction and handling of the trim while providing a more consistent application of finish. Mechanical layout was developed by the trim process manufacturer with numerous used conveyor and transfer components being installed for processing of the trim. All of the components were tied together to allow trim to enter the system and not have to be handled again until the process of application and drying was completed.  
Industrial Automation was asked to design and develop a control system. The control system was to monitor and control the flow of trim through the various spray booths and drying operations.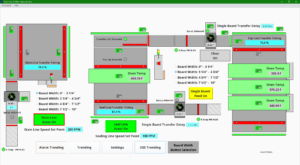 System speed had to be adjustable as various coating and drying conditions were needed for different types of trim.  A Rockwell Compact Logix PLC was used in association with many variable speed electric motor drives and an Ignition driven integrated PC touchscreen for SCADA, OEE, and the operator interface. 
The system is started by an operator at the touch screen. Trim is fed into the system at various points depending on operation(s) required. As the trim is moving through the system it may be coated with the appropriate coating, air dried, and or heat dried.  Oven temperatures, conveyor speeds, board feed rates and more are system adjustments made available to the operators.  System security was added to protect critical features and setpoints from being inadvertently changed.  OEE (Overall Equipment Effectiveness) was added for management visibility into the machine effectiveness.  An OEE screen is accessible from any networked computer, in addition a daily report is sent to management detailing the production metrics for the previous day.      
System Results:
The new system accurately and precisely controls production equipment for a consistent and quality product in addition to increasing efficiency and productivity of the entire trim coat line.