Clean Room Environmental Control

Customer:  Main Street Ingredients.
Main Street Ingredients located in La Crosse, WI installed a new clean room to enclose an automated powder product packaging line. The product to be packaged requires tight control of room air quality; pressure, temperature, and humidity.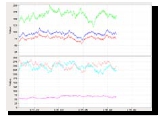 Project Scope:  The newly installed air handling and control equipment
performed to design specifications, but the process room pressure, humidity, and temperature could not be controlled sufficiently and tended to wander in and out of tolerance.
Project Design:  Industrial Automation made design changes to the OEM installed Allen Bradley Compact Logix controller I/O. This was done to improve the analog resolution of process variables. We then modified the "control loop" to clamp down on the allowable process room environmental air characteristics. The returning room air first passes through a large glycol cooling heat exchanger to remove excess humidity from the air. The cooled and dehumidified air then passes through a steam powered design, a small change in room humidity will cause a large change in the heat demand  needed to offset the dehumidification caused cooling.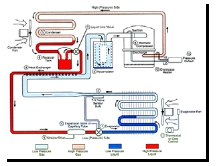 Conventional PID algorithms were not able to handle the large process variable upsets caused by the intermittent dehumidification cooling. The room temperature would often swing five or more degrees in either direction of the room temperature set point. Industrial Automation designed and installed a custom "fuzzy logic" control program that is able to compensate for the sudden and large heating demand requirement due to dehumidification cooling changes.
Project Results:  Efficiency, Quality, Productivity
The completed control modifications have greatly improved the process room environment air characteristics. Room pressure typically is now held within .02 in/H2O of set point, humidity within 2% of set point, and temperature within 1 degree F of set point.