Welding Station Automated System

Customer: Exopack Inc.
Exopack Inc. in Tomah WI produces many types of plastic bags for numerous markets. A strong multilayer printed bag with bonded plastic handles is one of Exopack's products.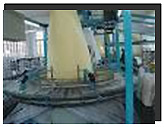 Project Scope:  The existing handled bag production was labor intensive. The bags are created as a tube by an extruder. The tube is collapsed and multi color graphics are printed on the outer surface. The bags are formed by cutting the plastic tube at printed registration marks and sealing one end. The bags were then taken to a room where twenty operators manually attached the handles to the bags using ultrasonic welders.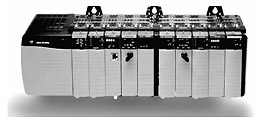 Project Design:  Industrial Automation assisted a machine builder in designing a fully automated system to weld the handles onto the bags as they emerge from the bag cutting machine. The new system incorporates two robot arms to alternately pick a bag from the bag cutter just as it is cut from the newly created and printed plastic tube. Each robot transports its bag to one of two automated handle insertion and welding stations. Once the handle is welded securely to the bag, an eject arm hangs the completed bag in stacks of 25 on a wicket conveyor. The two wicket conveyors index each time a stack of 25 bags is made. An Allen Bradley Control Logix PLC oversees the control of the bagger, both robot arms, ultrasonic welders, stock feeders and numerous motor drives and air powered actuators. A 12 inch Panel View Plus is mounted in a movable pendant and allows the operator to view all system control variables such as timers, pressure controls, and robot position offsets. The touch screen also ../includes service and help screens.
Project Results: Efficiency, Quality, Productivity
The completed in line handle attaching machine greatly reduced Exopack's production costs by eliminating more than twenty operators that were needed to assemble the bags by hand.  Product quality and consistency were also improved and waste was reduced significantly.