Rotary Parlor Robo Sprayer
Customer: Mtech Dairy Solutions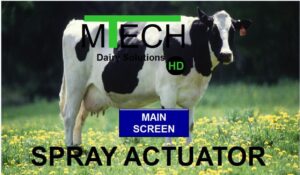 Project Scope:
The owner of Mtech Dairy Solutions wanted to develop a new bovine teat pre and post spraying machine for the dairy industry. The existing dip cup method is labor intensive, inconsistent, and very repetitive. Some of the existing industry spraying machines are too slow for newer rotary parlor rates, have limited control features, are very expensive, and are plagued with maintenance issues. He wanted a system that is simple but technically advanced, easy to install, intuitive to program, and requires little maintenance.
Project Design:
The system consists of a Rockwell PLC, a LinMot linear motor with an "H" guide assembly, a VPN wifi enabled router, and an 8″ color touch screen. The control sensors consist of two laser photo eyes to determine trigger points and a laser sensor to determine cow presence. The actuator has the capability of moving up to 800mm of travel at a rate of 2 meters per second. This more than satisfies a rotary parlor set to move at a 4 second cow to cow rate. The spray

profile is determined by the stroke distance and has setpoints for start, stop, and a pause delay timer when the programmed end of stroke is reached.
The touch screen has a main screen with password protection allowing access to setup and other protected screens. The main screen displays parlor and sprayer metrics along with temp and current gauges and drive status. The main screen also has links to 4 daily and hourly trending screens. The actuator page displays the chemical valve solenoid control setpoints along with the actuator profile. The actuator profile has settings for velocity, acceleration, position in and out, and a pause time delay. The setup screen allows you to visualize trigger and presence status, change trigger and presence sensor modes, and view programming revisions. The trouble shooting and inspection screens display information to troubleshoot and how to perform preventative maintenance.
The system is also able to be set up for remote access monitoring, trending, and control utilizing a local wifi connection.
Project Results:
The actuator with "H" guide assembly and the control system provide a robust and flexible machine. The actuator is built to stroke tens of thousands of actuations a day with an extended bearing replacement life. The sprayer control is easy to program, system is simple to install, and troubleshooting is made easy with the on display help. This is a key factor when maintaining a system during parlor cleaning times.