Paint Booth Conveyor Recipe Control
Company: Torrance Casting

Scope:
The original system consisted of a chain conveyor that is used to hang cast iron parts as they travel through a paint booth and an oven. The conveyor is driven by a motor that was controlled by an outdated VFD. The only user-interface was the local HIM pad on the VFD with minimum controls available. Industrial Automation was contracted to replace the outdated and limited control system with a dual location control system that would give the operators full control of the conveyor and the ability to select recipe programs based on the specific parts being painted and baked.
Design:
We replaced the single VFD and HIM with two control enclosures, one for each operator location. The main enclosure contained a Powerflex 525 that replaced the outdated VFD, a CLICK PLC, as well as I/O from the field that is utilized for maximum user control. Each enclosure has a Cmore HMI that works in unison with one another from each location. The PLC and HMI programming consisted of manual control as well as recipe programs used for automatic control of both the conveyor and the paint booth spray guns. The recipe programs were created to allow for different methods of painting and baking the cast iron parts as they travel through the paint booth and oven.
Results: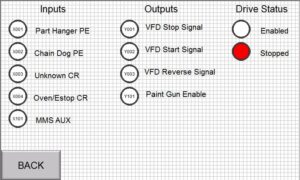 This control update allows the operators to control the system from two locations adding safety and increasing efficiency. The operators are also able to better manipulate the system with added user-controls and produce a higher quality product with recipe programs.