Creamery – RAW CIP Wash Tag
Customer:
Creamery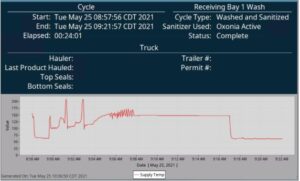 Scope:
Each day many tankers make deliveries to the facility to deliver milk and cream. After the product is unloaded, the facility must perform a Clean-In-Place (CIP) wash on the tanker before it is prepared for the next haul. The system to perform the CIP was already in place. However, the system to verify that the wash was completed properly was all done manually. The records were filled in with pen and paper and stored in the same manner. 
Design:
The new design implemented the onsite SCADA platform – Ignition by Inductive Automation. With this platform, the information was collected automatically for each wash. When a wash starts, the operator is prompted to enter the truck information. This truck information is then stored along with a timestamp to record when the wash began. The current operator, product unloaded, chemicals used, permit numbers, seals, and wash program are also all stored automatically. This information is all backed up to a SQL database. 
Upon completion of the CIP wash cycle, the cycle is evaluated to determine if it was completed properly. The time of cycle completion and the total duration are also recorded. All of this information is then automatically printed to a wash tag that can be given to the truck driver for verification. An interface has been created to allow operators to either reprint or email a detailed report of the wash. These reports include all of the aforementioned data along with a historical trend that displays the wash temperature and flow rate of the CIP during the entire cycle. 
An SMTP server has been set up onsite to coordinate automatic email reminders to the supervisors. Weekly, all supervisors receive an email prompting them to review the logged CIP data. Upon verification, the CIP records update to display who verified the record and when. Another email is then sent out to supervisors to notify them that weekly verification has been completed. 
Results:
The creamery is now able to reliably store and produce records of each CIP wash. Truck drivers are no longer required to record CIP wash information manually. If the CIP wash tag gets lost, the trucker no longer needs to return to the facility and completely redo the CIP wash. Rather, the next receiving facility can simply receive an email confirmation that the CIP wash was completed properly. Truckers, plant operators, and supervisory staff are now working with a modern system that can reliably grow to fit their continued needs moving forward.