Log Handling Equipment and Cant / Flitch Conveying Controls
Project Scope: A lumber mill was adding a new head saw, and also wanted a new control system for their log routing and cant / flitch handling conveyors. The new control system needed to be intuitive and provide ample information to the head saw operator so he or she could be sure the equipment was functioning as it should.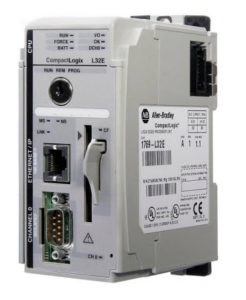 System Design and Function: The mechanical layout of the conveyor system was developed by personnel at the lumber mill. As they were completing installation of the mechanical components, they reached out to Industrial Automation to develop the new control system. Industrial Automation reviewed the system layout and developed a plan integrating the new controls.
A Rockwell Compact Logix PLC was selected for system control because it was the same brand as other PLCs in the lumber mill, allowing for communication between the various PLCs without the use of third-party software or other devices. A 15-inch automation direct C-more touch screen was selected for the operator interface and system monitoring, providing a large screen format and an economical price point.
While the log and cant handling equipment was being built, we developed wiring diagrams based on the equipment that was being utilized. Industrial Automation worked closely with the electrical contractor to ensure all electrical devices were included in the diagrams—including motor contactors, soft starters, selector switches, foot switches, optical sensors, limit switches, hydraulic fluid level sensors and solenoid valves—so wiring could be properly labeled and connected.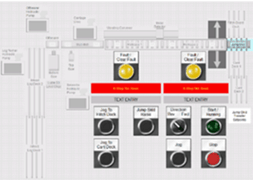 An intuitive system control layout was developed for the C-more HMI, which would be used by the operator of the head saw. The control layout provides an overview of the complete conveying material handling system. Individual components can be controlled by simply selecting that particular component on the overview and utilizing the controls presented. The overview remains visible in the background to allow for overall system monitoring. Alarms and other statuses are indicated on the screen by component color changes and with a message to provide clarity.
Project Results: The new control system allows the operator of the head saw to monitor and control material flow throughout the entire line. This allows for a high rate of efficiency and minimal time spent away from the head saw, resulting in maximum productivity.