Ice Plant System Control Design

Customer:  Kwik Trip Inc.
Kwik Trip, Inc. is unique in the convenience store industry because they maintain total quality control over a wide variety of products by producing and packaging these items in their own state-of-the-art facilities. In addition to their Corporate Support Center, which handles the administrative needs of their stores and co-workers, they operate their own Bakery, Commissary, Dairy, Distribution Warehouse and Vehicle Maintenance divisions. They have now added Ice production to serve the growing demand. In this way, they can effectively control costs and waste while supplying their stores and customers with products and services of the highest quality 365 days a year.

Project Scope: Ice Production
For several years Kwik Trip has produced much of the packaged ice that they sell.  The demand grew and Kwik Trip decided to build a state-of-the- art ice production facility.  Industrial Automation was commissioned to develop an efficient ice plant system control design that would interface with all of the ice production and packaging equipment from the press of a touch screen start button to the destination labeling of the bagged and palletized product.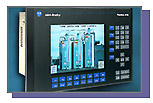 Project Design: Industrial Automation's ice plant control design incorporates a customized Allen Bradley Control Logix PLC system. The Control Logix system employs a Device Net control network and an Ethernet control network. The networks were employed to enhance the control capabilities and to minimize field wiring and installation costs.  The ice plant Control Logix systems internal Ethernet network is used to communicate directly to two Panel View Plus touch screens and many other vendor ice production device controllers.  The Control Logix controller also ../includes a web server module that allows designated supervisory and maintenance personnel remotely monitor the plant.
Project Results:  Efficiency, Quality, Productivity
The completed control system allows Kwik Trip to maintain optimal ice quality and packaged ice production rates, while simultaneously minimizing production costs. Because of the efficient and reliable control system, the ice plant is typically operated and maintained by only 2 employees per shift.  Each shift is capable of producing & packaging 200 tons of ice!