Garbage Burning Plant Control
Customer:
Electric Utility – Garbage Burning Plant Control
Scope:
The electric utility had an obsolete PLC and control equipment. The existing PLC5 programs needed to be converted to another control platform and the controls were replaced and updated with a new cabinet and control equipment. This was accomplished without any plant operational downtime.
Project Design: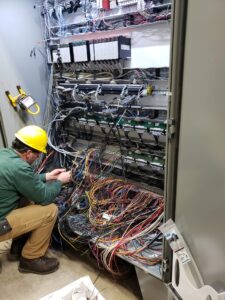 Industrial Automation converted the existing PLC5 programs to run in a Control Logix environment. A new two door free standing enclosure houses the all new Control Logix processor, I/O, and supporting equipment. Temporary cable harnesses were installed to connect the new Control Logix inputs and outputs to the existing PLC5 terminated field devices wiring. The existing PLC5 system remained in service until the new Control Logix system was fully tested and debugged. Testing and transfer of plant control to the Control Logix system for final testing was accomplished by disconnecting the PLC5 I/O modules to field wiring swing arms and then connecting the PLC5 field wires to the Control Logix controller. If needed, the PLC5 control could be resumed by reconnecting the PLC5 I/O swing arms and disconnecting the Control Logix temporary I/O to field devices wiring.
Project Results:
The utility was able to test and transfer all control functions over to the new control equipment without any loss of production time or function. The PLC program is now able to be easily updated with current software and the control equipment is readily available.