Crouton Oven Control & Monitoring
Project Scope:
A bakery's controls on a crouton oven were outdated, unreliable, and allowed little visibility to system status, trending, and alarming.  Industrial Automation was contracted to update the controls, add deep machine visibility, precise temperture control, and data logging
Project Design
We replaced all existing motor controls and relay logic in the Proctor oven control panel. Allen Bradley motor controls and a Compact Logix programmable controller was installed. An all-in-one touch screen PC was provided and installed in the cabinet door for the local HMI/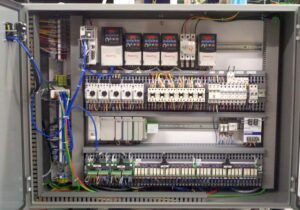 SCADA interface. Ignition, by Inductive Automation, SCADA, HMI software was installed on a PC with enhanced capabilities that include system control, data collection, historical trending, alarming, and networked accessibility to logged data.
Existing motor control and relay wiring was verified for development of new electrical diagrams. New contactors and motor protectors replaced the old contactors, overloads, and fuses. New control panel doors / covers (total of four) were installed to replace the existing panel doors. Existing burner controls and flame safeguard modules remained in service as well as all field wiring to these devices.
The existing relay logic and chart recorders was replaced by a Programmable controller. This allowed for concise monitoring of temperatures, flow switch, valve states, and more. The programmable controller was mounted in the existing motor control cabinet as well as the new large touch screen and PC. This provided full access to system control, equipment monitoring, temperature control, and logged oven data.
Results:
Overall this new control increased machine efficiency by making machine status much more visible, allowing the operators to easily troubleshoot issues and to make intelligent changes to setpoints.  Data is historically logged to a database, trend charts display this real time and historical data, and screen control make it possible to export the data for remote viewing.