Conveyor System Integrated Controls

Customer:  Kwik Trip Inc.
Kwik Trip, Inc. is unique in the convenience store industry because they maintain total quality control over a wide variety of products by producing and packaging these items in their own state-of-the-art facilities. In addition to their corporate Support Center, which handles the administrative needs of their stores and co-workers, they operate their own Bakery, Commissary, Dairy, Distribution Warehouse and Vehicle Maintenance divisions. In this way, they can effectively control costs and waste while supplying their stores and customers with products and services of the highest quality 365 days a year.

Project Scope:  Automated Dough Proofing Oven Filler
The Kwik Trip Bakery employs a state of the art automatic dough rolling and cutting machine for production of some of their raised donuts. After the donuts are cut, the dough must be placed on trays that pass the dough through a proofer oven to raise the dough prior to entering a fryer.  This dough placement task required two workers to accomplish and was very fatiguing so that the worker pairs had to be changed several times an hour.  Kwik Trip's automation engineer designed a customized conveyor system to transport the dough from the cutter to the proofer. Industrial Automation was commissioned to develop the controls to integrate the equipment and to control the conveyor system to optimize the donut placement so an entire row of dough can be dropped onto an empty proofer tray.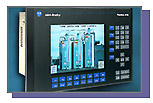 Project Design: Allen Bradley Control Logix
Industrial Automation used an Allen Bradley (Micrologix 1500) PLC system to precisely control the fresh dough transportation, orientation, and proofer oven transport trays fill timing.  The control also interfaces with the existing automated dough cutter and matches the dough cutters production speed to the proofer oven's product loading capabilities.
Project Results:  Efficiency, Quality, Productivity
The completed dough transfer system eliminated the need for two very undesirable and stressful positions from the donut production line. The system also maximized the donut dough throughput and nearly eliminated the considerable waste that was previously caused by dropped donuts, by handling deformed donuts, and by cutter overproduction.