Bovine Teat Washing Controller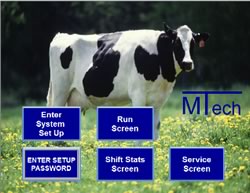 Customer: Mtech Dairy Solutions
Project Scope: The owner of Mtech Dairy Solutions wanted to develop a new cow teat washing system for the dairy industry. The existing towel method is not always effective, and it is slow and wasteful. Some of the existing "controlled" washing systems were not intuitive, had limited control, required multiple control panels, and were plagued with maintenance issues. He wanted a system that was all encompassing, easy to install, intuitive to program, equipped with optional features, and required little maintenance.
Project Design: Industrial Automation was asked to design, develop, construct, and program a new control system that has the ability to customize a control mode based on the individual farm type and teat cleaning preference. In addition, features like chemical monitoring, holding area cow cooling control, and trigger illumination and notification were also designed into the control system.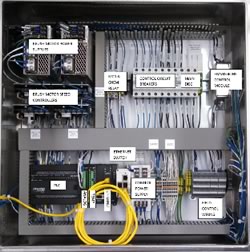 The system consists of an Automation direct PLC with multiple modules for IO, multiple DC drives, line voltage power supply, a control power supply, and an 8″ color touch screen. The panel was constructed in a NEWA 3R stainless steel enclosure for chemical resistance. The panel is also equipped with a main disconnect, electrical filtering, isolation relays, and heavy-duty multipole connectors for fast and easy connection to the panel.
The touch screen has a main screen with password protection allowing access to setup and protected screens. A run screen shows the current status of each of the installed brushes. A statistics screen displays each brush and each shift "counts" for trigger pulls, completed cycles, and brush drive overload faults. Brush statistics are stored and displayed on the screen showing the last 15 days of service. A service screen shows all of the current PLC I/O status, software revisions, and alarm history. Setup screens are password protected and allow brush configuration and control option setup like cow cooling and chemical monitoring.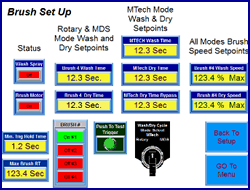 The brushes can be programmed to one of three available running modes and individual wash and dry times and running speeds. Additionally, shift start and stop times, installed brushes, chemical monitoring, and holding area cow cooling are able to be programmed. The system is also able to be setup for remote access monitoring and control.
Project Results: The control system is robust and flexible. It is also easy to program, allowing for fast installation times. This is a key factor when changing out a system during parlor cleaning times. The multiple pole connectors throughout the system allow for fast changing of brush assemblies and troubleshooting. The brush now has a piezo technology switch with LED indication. The switch has a life of more than 10 million operations and the LED indicator gives the operator feedback as to where in the washing cycle the system is currently.