Windmill Control Retrofit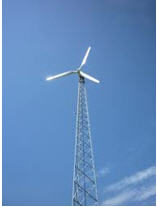 Customer: Privately held wind farm in south central Minnesota.
Project Scope: The wind farm had been installed with a "custom" made, manufacturer specific control system for 4 of its 40 KW wind turbines many years ago. It was no longer cost effective to repair and finding service providers for maintenance was becoming difficult. Industrial Automation proposed removing the old controls and replacing them with controls that would be more readily available and serviceable.
Project Design: Industrial Automation designed and built a new control system that integrated existing components that were still viable, and new components to replace outdated equipment. The system utilized an Automation Direct DL06 series PLC and a C-more Micro-Graphic touch panel along with a phase monitor, an Anemometer, a Ziplink relay module, and a proximity sensor. The PLC and touch panel combination allowed for testing, monitoring and mode selection as well as automated system control. Wind speed is monitored with the anemometer to determine when the windmills should be in the stopped or run mode. Breaking and transition between generating & motoring was controlled using the phase monitor. Power factor correction capacitors were used to boost the "motoring" power factor during that mode.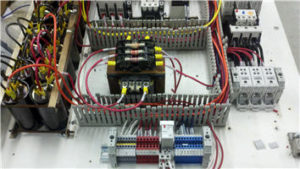 Project Results:  System controls are now available via a graphical user interface and control components are readily available. Any modifications to the system can be easily made which allows for customizable operation of the windmill. Testing of components has been simplified as manual controls are now available to the operator.