Paint Booth Air Flow Control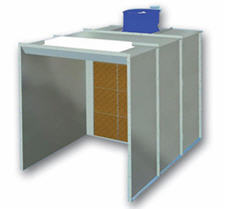 Customer: A North American leader in the Cabinet Component Industry based in La Crosse, WI., manufactures custom cabinet doors, drawer boxes, moldings and many other varieties of cabinet components and accessories.
Project Scope: Replace existing air flow and pneumatic controls on open front spray booths.
Project Design: The existing spray booth controls consisted of an across line motor starter for the exhaust fan with start / stop push buttons. Air filter flow restriction was monitored by a manometer tube which depended upon operator checks to maintain adequate ventilation. No external status was shown for the booths, such as: in use, purging, off, etc.

An intelligent PLC controller, Variable Frequency Drive, system status lights, and differential pressure sensors with analog outputs were installed. This allowed the differential pressure across the filters to be monitored. We were now able to provide an indication of when the flow was reduced to insure minimum safety standards would be met.
Usage of the spray guns was monitored and after a predetermined time of no usage the exhaust fan speed could be reduced and then eventually stopped. It, however, remained in a ready state and would restart if the gun was activated.Exhaust flow was also monitored and based upon this value, the exhaust fan speed could be altered. This saved power consumed by the electric exhaust motor as well as the amount of makeup air that had to be heated in the winter. When flow rates became impeded beyond a safe level, the pneumatic supply to the spray gun was shut off to prevent further operation.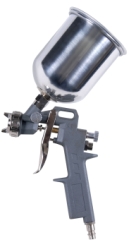 The booth lights were also connected to the system and would shut off after a predetermined time of no spraying activity.
Project Results: Energy Savings, Efficiency, Quality, Productivity
The completed spray booth system offered savings in power usage (both power consumed by the exhaust fan motor and in amount of makeup air required) and met OSHA standards for operator safety.